Music
SEMELE by George Frideric Handel
3, 4, 8 & 10 NOVEMBER TΗΕ CITY OF ATHENS SYMPHONY ORCHESTRA AT THE ATHENS OLYMPIA MUSIC THEATER "MARIA CALLAS"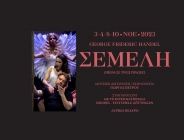 The City of Athens Culture, Sports & Youth Organization, OPANDA, in collaboration with Göttingen International Handel Festival, presents at the Athens Music Theater Olympia the emblematic lyrical drama "Semele" by George Frideric Handel!
"Semele" was presented at the Göttingen International Handel Festival, in May 2023, under the music and stage direction of the internationally renowned conductor George Petrou, the Festival's Artistic director. This new, exuberant production of Handel's lyrical drama, is now performed by the City of Athens Symphony Orchestra & Athens Chamber Choir, and a brilliant international cast, featuring the Swiss star soprano Marie Lys in the leading role.
Conductor/Stage Director: G. Petrou
THE ARTBASSADOR provided the Orchestra with the music material of George Frideric Handel's work, on behalf of the Publishing House Alkor-Edition Kassel GmbH.