Theatre
SEXY LAUNDRY by Michele Riml
In Panhellenic premiere, at Kappa Theatre since 9 December!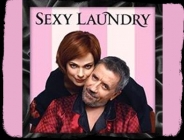 Armed with a "Sex for Dummies" guidebook, Alice and Henry check themselves into a trendy spa hotel with a mission: to rejuvenate their 25-year marriage. Can they embrace all the extreme.. suggestions, pulling from Alice's marriage-saving manual and rediscover themselves through this inspiring last effort?
''Sexy Laundry'', the romantic comedy, by the award-winning Canadian playwright Michele Riml, premiered at the Canadian theatrical scene, in 2004, becoming an absolute success. Since then the play has been widely produced in more than 20 countries throughout the world, thrilling audiences and critics.
Direction : Spiros Papadopoulos
Translation : Nikoleta Kotsailidou
Production : Spiros Papadopoulos
Starring : Spiros Papadopoulos,Dafni Labroyianni
THE ARTBASSADOR has licensed the Greek production, on behalf of the playwright Michele Riml and her Agency Marquis Entertainment INC.