Theatre
SHIRLEY VALENTINE by Willy Russell
At Neos Kosmos Theatre, since 10 March!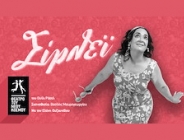 The joyous, life-affirming story of Shirley Valentine, an ordinary middle class English housewife trapped in marriage and motherhood, who decides to chase her dreams and rediscover the joy of living on a holiday in Greece.
Winner of the 1988 Olivier Award for Best New Comedy, Shirley Valentine is the 1986 critically acclaimed one- woman play, by Willy Russell, one of Britain's greatest living dramatists.
An absolute West End and Broadway hit, which was named among the"10 most influential postwar British plays" by Guardian UK.
Translation: N. Kotsailidou
Direction: V. Mavrogeorgiou
Production: ΝEOS KOSMOS THEATRE
THE ARTBASSADOR has licensed the Greek production, on behalf of the Agency NEGUS FANCEY AGENCY LTD, which represents Willy Russell's rights in this play.