Music
UNUSUAL & PRICELESS MUSIC WORKS
23 January 2021
ATHENS STATE ORCHESTRA AT THE ATHENS CONCERT HALL STREAMING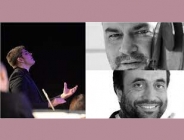 The Athens State Orchestra, in collaboration with the Athens Concert Hall, will present via streaming on the youtube channel and social media, a unique concert with precious works by Cecile Chaminade, Wolfgang Amadeus Mozart and Dmitri Shostakovich. Under the music direction of Romanos Papazoglou, the orchestra and the soloists Mihalis Ramos in flute and Apollon Grammatikopoulos in violin, will present the following works:
"Flute Concertino, Op. 107", by Cecile Chaminade (1857-1944). Composed in 1902 for the Paris Conservatoire Concours, this marvelous work with its beautiful romantic and melodic lines, remains a standard and popular piece of the flute repertoire.
''Violin Concerto No. 3, K. 216", by Wolfgang Amadeus Mozart (1756–1791). Composed in 1775, when Mozart was 19 years old, this work is the early testimony to his greatness of which no one at that date could have yet been aware.
"Suite, Op 32a for the theater play Hamlet", by Dmitri Shostakovich (1906–1975) a fascinating and compelling work, composed in 1932 for the notorious production of Hamlet, directed by Nikolai Akimov, at Moscow's Vakhtangov Theatre.
The ARTBASSADOR, provided the Orchestra with the music material of the work of Dmitri Shostakovich, "Suite, Op 32a for the theater play Hamlet",on behalf of the Publishing House BOOSEY & HAWKES UK.