Music
STABAT MATER by Karl Jenkins
11 April 2023
EASTER CONCERT BY MOYSA & MUSICA CHOIR AT THE THESSALONIKI CONCERT HALL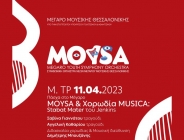 The Thessaloniki Concert Hall in collaboration with the Friends of Music Society and the State Conservatory of Thessaloniki present a marelous Easter concert with excerpts from Karl Jenkins' 2008 composition "Stabat Mater".
Based on the 13th-century Roman Catholic poem attributed to Jacopone da Todi, which portrays the suffering of Mary, Jesus Christ's mother, during his crucifixion, Karl Jenkin's powerful work "Stabat Mater" incorporates ancient instruments and modes from the Middle East into the western classical harmony.
Under the music direction of D. Bouzanis, the Thessaloniki Concert Hall Youth Symphony Orchestra, MOYSA, along with the MUSICA Choir, S. Yannatou and A. Cathariou in vocals, will offer audiences a unique and unforgettable Eastern experience.
THE ARTBASSADOR provided the Orchestra with the music material of Karl Jenkins' work, on behalf of the Publishing House BOOSEY & HAWKES UK.