Theatre
DIAL M FOR MURDER by Frederick Knott
At Athena Theatre, since 30 January!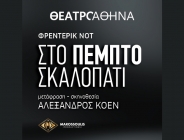 Can you ever get away with the perfect crime? Tony married Margot for her money, but when he discovers she has been unfaithful, his mind turns to revenge and the pursuit of the "perfect murder".
Frederick Knott's famous murder mystery, "Dial M for murder", opened in London's West End in 1952, and later transferred in Broadway, enjoying a highly successful run. This iconic play was made famous by Alfred Hitchcock's world-renowned 1954 film of the same name, starring Grace Kelly and Ray Milland.
An elegant murder mystery, with a genius plot, twists, jealousy and betrayal which will keep audiences on the edge of their seats!
Translation: A. Koen
Direction: A. Koen
Production: Marossoulis Productions
THE ARTBASSADOR has licensed the Greek production, on behalf of The Estate of Frederick Knott, right owner of Frederick Knott's play, c/o Concord Theatricals Corporation.