Music
The Symphony Orchestra of the Municipality of Athens at the NATIONAL GARDEN of Athens!
09 June 2017
"EARLY SUMMER EVENING CONCERT…MUSIC SOUNDS AND FRAGRANCES IN THE GARDEN"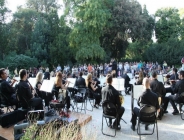 The Athens Garden Festival celebrated its fifth year and honored the larger garden of Athns, the National Garden. The festival gave access to the creativity and the arts and its main theme was "Live in the Garden differently".
The Municipality of Athens together with the Organization of Civilization Athletics and Youth invited the citizens in an educational environmental-artistic program for young and elder.
On June 9th, amongst other events, a great concert took place in the National Garden. The Symphony Orchestra of the Municipality of Athens, invited the audience to a dream garden of rare compositions inspired by flowers. The magic of music took off from the lyric voices of: Vasia Zacharopoulou, Christina Asimakopoulou, Stella Kavvadia, Ioanna Kokovika, Athina Kastrinaki and Christos Kechris.
They performed works by P. I. Tchaikovsky, A. Scarlatti, C. Saint-Saëns, P. Mascagni, E. Chausson, L. Delibes, F. Delius, A. Thomas, F. Flotow, G. Puccini, R. Russell Bennett and G. Kouroupos.
The Artbassador provided the Orchestra with the music material of the work THE SOUND OF MUSIC: Edelweiss in Ab major by Robert Russell Bennett, on behalf of the Publishing House RODGERS & HAMMERSTEIN UK.