Music
A TRIBUTE TO THE MEMORY OF ARMENIAN GENOCIDE VICTIMS
24 April 2021
THESSALONIKI STATE SYMPHONY ORCHESTRA AT THE THESSALONIKI CONCERT HALL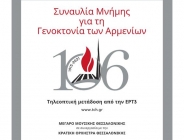 On the occasion of the 106th anniversary of the Armenian Genocide, The Thessaloniki Concert Hall in collaboration with the Thessaloniki State Symphony Orchestra presents a unique concert-tribute to the memory of the Armenian genocide victims, which will be broadcast by the Greek Radio-Television (ERT3), on Saturday, April 24.
The Armenian Genocide was officially recognized by the Greek Parliament in 1996. As of 2021, governments and parliaments of 33 countries have formally recognized the Armenian genocide. The 24th of April has been established internationally as the official day of commemoration of the genocide of Armenians, committed by the Ottoman Empire during World War I in 1915.
Under the music direction of Miltos Logiadis the Orchestra, accompanied by the Soprano Syranous Tsalikian, will present famous works by the Armenian composers, Edvard Mirzoyan and Aram Khachaturian as well as excerpts from Christos Hatzis' work, "Light from the Cross" based on hymns of the Holy Week of the Armenian Church. Poetry is recited by the Artistic Director of The National Theatre of Northern Greece, Nikos Kolovos and Araxia Ganapetian (in Armenian).
THE ARTBASSADOR provided the Orchestra with the music material of the following works:
Lyrical Poem "Shushanik" του Εdvard Mirzoyan, courtesy of Mrs ZΑRA ΜIRZOYAN and Mr ARSHAK MIRZOYAN.
Adagio of Spartacus and Phrygia, from the ballet Spartacus Suite 2, by Aram Khachaturian, on behalf of the Publishing House SIKORSKI-A CONCORD COMPANY MEMBER.