TV
SUPER MAMMY
A new comedy series in Greek-TV, since 3 April !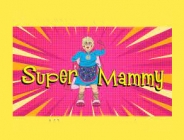 SUPER MAMMY! A new hilarious series, based on the BBC TV smash hit comedy series "MRS BROWN's BOYS", by Brendan O' Carroll, makes its debut in Greek-TV ANT1.
Audiences will enjoy an incredibly entertaining show, full of laughter and unexpected happenings, following the life of a traditional family, with a loud-mouthed Greek mother whose favorite pastime is meddling in the lives of her children......
In the leading role the brilliantly funny comedian, Markos Seferlis, along with a great, talented cast.
Adaptation : Markos Seferlis
Direction : Markos Seferlis
TV-Direction : Giorgos Kalioras
THE ARTBASSADOR has licensed the Greek adaptation, on behalf of the Boc-Pix Limited, copyright owner of Brendan O' Carroll, in collaboration with Sacha Brooks.