Theatre
39 STEPS by John Buchan and Alfred Hitchcock in stage adaptation by Patrick Barlow
A wonderful spy comedy adventure. Since 16 October 2017. At POLIS Theatre.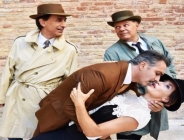 A contemporary theatrical view at a prize-winning work that has won two Tony & Drama Desk Awards and a prize for the Best New Comedy Lawrence Olivier Awards 2007. A performance which was loved by the theatrical audience in many countries, such as America, London, Hong Kong, Australia.
The play has 35 scene changes, where the scene is transformed from an outdoor space into a theatre room, a street, a train, a train station, a wagon shelter, bridges, rivers, seas, mountains, airplanes, etc. Thus, the viewer is left to the mercy of the body expression of the actors, the sounds and the image.
The four leading actors, Spyros Spantidas, Haris Sozos, Fotis Kepelis and Mara Darmousli, share 130 roles in a spy thriller with a lot of laughter, where a lonely man is erroneously accused for the murder of a beautiful woman. In an effort to prove his innocence, an impressive manhunting begins with various comic adventures. Under the direction of Spiros Spantidas, in translation of Kostis Tsonos.
THE ARTBASSADOR has licensed the Greek theatre production, on behalf of Fiery Angel Ltd c/o the Agency Macnaughton Lord 2000 Ltd (www.mlrep.com).