Theatre
LONG DAY'S JOURNEY INTO NIGHT by Eugene O'Neill
Αt Theatro Odou Κefallinias, since 3 Νοvember! Second run!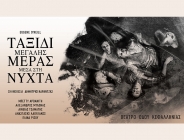 Eugene O Neill's haunting drama ''Long Day's Journey Into Night'', is a semi-autobiographical play, which the playwright called "a play of old sorrow, written in tears and blood".
Written in 1940-1941, but premiered three years after his death, in Sweden (1956) and then on Broadway earning huge recognition, this timeless masterpiece is widely considered to be Eugene O'Neill's magnum opus and one of the all-time great classics of the 20th Century. Read more..
Translation : Nikos Gatsos
Direction : Dimitris Karatzas
Production : PRAXI
THE ARTBASSADOR has licensed the Greek production, on behalf of YALE UNIVERSITY, which represents Eugene O Neill author's rights, c/o ICM PARTNERS, c/o CONCORD THEATRICALS CORPORATION.