Music
JOURNEY TO THE CENTER OF MUSIC-THE SYMPHONIC SUITE
05 May 2023- 06 May 2023
ATHENS STATE ORCHESTRA AT THE ATHENS CONCERT HALL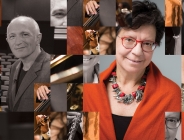 Continuing the famous concert series "Journey to the Centre of Music", the Athens State Orchestra presents its fourth concert, dedicated to the popular genre of the Symphonic Suite, the archetypal example of the music that people listen for "entertainment", throughout the ages.
Combining videos, speeches and marvelous music, this interactive concert will offer audiences a musical-historical journey into the more "relaxed" side of life!
Under the music direction of the conductor Lukas Karytinos, the Orchestra will present beloved works by Edvard Grieg, Leonard Bernstein, Sergei Prokofiev, Dmitri Shostakovich along with Nino Rota and Manos Chatzidakis.
THE ARTBASSADOR provided the Orchestra with the music material of the work Jazz Suite No 2 Waltz II, by D. Shostacovich, West Side Story-Mambo by L.Bernstein and Tybalt's Death, Suite No 1, from Romeo & Juliet, by S. Prokofiev, on behalf of the Publishing House BOOSEY & HAWKES UK.