Theatre
PERFETTI SCONOSCIUTI by Paolo Genovese SECOND RUN
At Athina Theatre, since 12 October!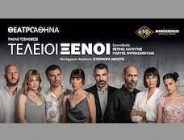 Seven long-time friends, an innocent...game and secrets hidden in their sim cards. What would happen if these tiny cards started talking?
A contemporary, genius comedy-drama, about friendship, love and betrayal, which is based on Paolo Genovese's successful and critically acclaimed movie "Perfetti Sconosciuti", winner of the 2016 David di Donatello Award for Best Film. Read more....

Direction: P.Lagoutis, G. Pyrpasopoulos
Translation: E. Meleti
Production: MAROSSOULIS PRODUCTIONS
THE ARTBASSADOR has licensed the Greek production, on behalf of Paolo Genovese, c/ο Carol Levi & Company Srl και Lotus Productions Srl.