Theatre
BURYING YOUR BROTHER IN THE PAVEMENT by Jack Thorne
At Cyprus Theatre Organisation, Theatre Apothikes venue, since 4 February!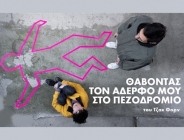 Tom's brother Luke is dead, killed by a broken bottle to the neck. They were never friends. But Tom's odd decision to camp out on the pavement, where Luke lost his life, will lead him to a challenging journey of self-discovery and growing up…
'I need to stay here, okay? Will you tell them that? I know you don't understand, but I really need to stay here...'
Written by Jack Thorne, a playwright described as "a power voice of Britain's youth" (Independent), "Burying Your Brother in the Pavement", after its' debut in the 2008 National Theatre Connections Festival, enjoyed numerous productions by youth theatres across the UK. A pulse-pounding story, dedicated to young people, in a powerful performance we absolutely need to see!
Translation : Eleni Moleski
Direction : Giannis Karaoulis
Production : CYPRUS THEATRE ORGANISATION-THOC
Starring : Stelios Kallistratis, Giannis Moustakas, Anthony Papamichail, Andreas Patsias, Alexandros Pavlidis, Maria Hatzichristodoulou
THE ARTBASSADOR has licensed the Cypriot production, on behalf of the Agency CASARROTO RAMSAY & ASSOCIATES, which represents Jack Thorne's rights in this play.