Theatre
THE CHILDREN by Lucy Kirkwood
A genuinely outstanding play about legacy, survival and responsibility!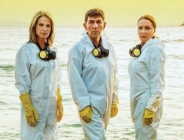 Inspired by the 2011 Fukushima nuclear disaster, ''The Children", a new play by Olivier award-winning author Lucy Kirkwood, premiered at the Royal Court, London, in November 2016 and made its debut the next year in Broadway, thrilling audiences and enjoying rave reviews. In 2018, the play received two Tony Award nominations and was also named Best Play at the Writers' Guild Awards.
" thoroughly gripping " - The Guardian
" astonishing and thrilling…bristling with chills and suspense." -N York Times
Brave, sharp and humane, Lucy Kirkwood's stirring play examines the responsibility each generation must face for the way it leaves the world, presenting an apocalyptic story you absolutely need to hear!
Hazel and Robin, two retired nuclear scientists, live a quiet existence in an isolated coastal cottage, as the world around them crumbles in the wake of a disaster at a local power station. Together, they are trying to preserve a semblance of normality until one day, Rose, an old friend and colleague, arrives, bringing memories of the past and a frightening request. She asks them to make a huge sacrifice in the name of the future, undertaking the responsibility that they owe to the following generations: "the children". How will they react? How will they face this challenge?
Lucy Kirkwood's hit play, "The Children" was presented, in Panhellenic premiere, during the theatrical season 2019-2020, at Theater ILISIA/Athens, produced by the company THEASIS DRASEIS POLITISMOU, directed by Nikorestis Chaniotakis, starring Renia Louizidou, Peggy Stathakopoulou and Gerasimos Skiadaresis.
THE ARTBASSADOR has licensed the Greek production, on behalf of the UK Agency CASAROTTO RAMSAY & ASSOCIATES LTD.