Theatre
THE CURING ROOM
In its Greek premiere at Vault Theatre Plus of Athens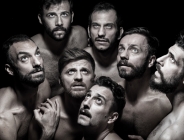 The Curing Room by the US Playwright, Director, Actor and Educator David Ian Lee, a bold, daring full length play, based on true events, is being presented at Vault Theatre Plus / Athens, in its nationwide premiere, under the direction of Dimitris Karatzias, translated by Adonis Galeos.
Spring 1944 in South Poland: Seven Soviet soldiers were captured by the Nazis, who imprisoned and abandoned them naked, without any possessions, food or drink, in the empty cellar of a monastery. Stripped of all ties to their previous life, the prisoners little by little lose their hope and are forced to redefine their views on order, faith, and humanity. How many of them will be able to to survive and with what means?
Starring: Nikos Gelia, Stelios Kalaitzis, Manos Kanavos, Panagiotis Bratakos, Thanasis Patriarcheas, Vasilis Tsigkristaris, Stelios Psaroudakis.
Premiere on December 9th, 2016. Performances: every Friday and Saturday at 21:15 and Sunday at 19:15.
THE ARTBASSADOR has licensed the Greek production of the play on behalf of the playwright David Ian Lee.