Theatre
THE HUMANS by Stephen Karam
At Mousouri Theatre, since 11 October!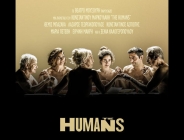 A Thanksgiving dinner of an ordinary family will bring to the surface memories, dreams, failed expectations and fears, revealing the imperfections of human nature along with its incomparable beauty.
Stephen Karam's heartbreaking comedy-drama "The Humans", opened on Broadway in 2016, was a 2016 Pulitzer Prize for Drama finalist and winner of the 2016 Tony Award for Best Play.
Funny and deeply chilling, this new American classic, is a stunning portrayal of human relationships, fears and challenges of everyday life! Not to be missed!
Translation: K. Markoulakis
Direction: K. Markoulakis
Production: K. PAVLAKIS
H THE ARTBASSADOR licensed the Greek production on behalf of the Agency WILLIAM MORRIS ENDEAVOR ENTERTAINMENT LLC, which represents Stephen Karam's rights in this play.