Music
The Queen Symphony by Tolga Kashif
11 November 2017- 12 November 2017
At the Athens Concert Hall with the Symphonic Orchestra of ERT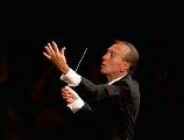 The National Symphony Orchestra, the Choir of ERT and the Mixed Choir of Thessaloniki, presented at the Athens Concert Hall, on Saturday 11 and Sunday 12 November 2017, a symphonic work inspired by the groups ABBA and Queen.
The program began with the composition 'Symphonic Abba 2' under the music direction of Alexios Priftis which was based on 18 songs of the legendary ABBA group from Sweden, with elements of classical and pop music.
The work 'The Queen Symphony' was heard at the second part by the British composer, director and music producer Tolga Kashif. It was written on 2000 and presented for the first time in London, on 2002 by the Royal Philharmonic Orchestra. Then it 'traveled' to various other countries. Fifteen well-known songs by the legendary British group QUEEN with the catalytic presence of Freddie Mercury, were the inspiration for the said work, with elements of western classical tradition, medieval and romantic music, as well as, opera.
The Artbassador provided the Orchestra with the music material of the work Queen Symphony by Tolga Kashif, on behalf of the Publishing House CHESTER MUSIC LTD.