Theatre
WHAT THE BUTLER SAW by Joe Orton
At Alma Theatre, since 21 October!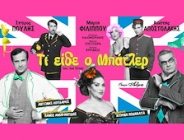 A naughty doctor who attemps to seduce an attractive prospective secretary, his enthusiastic.. wife, a mentally unstable inspector and an eccentric policeman, will find themselves involved in a chaotic game of funny and unpredictable incidents.
"What the Butler Saw" was Joe Orton's final play. Completed in July 1967, it opened at the Queen's Theatre, London in 1969, almost two years after Orton's death, causing a stir. Exploring and criticizing society's standards, the play is a hilarious farce with caustic dialogues, twisted plot and above all Orton's subversive wit. Entertaining as well as enlightening "What the Butler Saw" is now considered a contemporary classic!
Translation: P. Amarantidis
Direction: A. Loudaros
Production: D. FOTOPOULOS
THE ARTBASSADOR has licensed the Greek production of the play, on behalf of the ESTATE OF JOE ORTON, owner of Joe Orton's author rights, c/o CASAROTTO RAMSAY & ASSOCIATES.