Theatre
The Molière awarded play "Le Père" in Athens
15 October 2015- 15 October 2015
The play "Le Père" (The Father) of Florian Zeller will be premiered at the Theatre 'Dimitris Horn' in Athens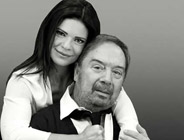 It's no wonder the play "Le Père" (The Father) of Florian Zeller won France's highest theatrical award, Molière, in 2014.
The play premiered on October, 24 2015, at the Theatre 'Dimitris Horn', Athens, translated and directed by Stamatis Fassoulis, leading actor of the play.
Featuring the director himself, one of the most talented figures of Greek theatre, who also translated the original script. Fassoulis has a large experience in directing all kinds of theatrical plays, ranging from drama to revues, musicals and children performances. Moreover, as a playwright, he has written more than 20 revues.
Florian Zeller, apart from being a respectful novelist, he is fast becoming one of most well-known contemporary playwrights of France. He has been hailed as "one of the hottest literary talents in France" (Independent). His work has been translated into many languages, including English. He won the prestigious Prix Interallié in 2004 for his novel "La Fascination du Pire" (Fascination of Evil).
Zeller's work for the stage, Le Père (2012), won the 2014 Molière Award for Best Play. The 'Molières' are considered France's highest theatrical honour. In the same year, the veteran French actor Robert Hirsch, honoured by the Comédie - Française, won the Molière Award for Best Actor and Isabelle Gélinas won the same award for Best Actress, respectively. Moreover, the play won a nomination at the Theatre Awards UK for Best Play.
In 2015, the play was adapted into the film Floride, directed by Philippe Le Guay.
The story: Now 80 years old, Andre was once a tap dancer. He lives with his daughter Anne and her husband Antoine. Or was he an engineer whose daughter Anne lives in London with her new lover, Pierre? The thing is, he is still wearing his pyjamas, and he can't find his watch. He is starting to wonder if he's losing control.
Featuring: Stamatis Fassoulis, Marina Aslanoglou, Konstantinos Kappas, Eftheria Benovia, Matina Nikolaou.
The Artbassador licenced the stage production of the above play by Athens Theatres, on behalf of Agence Drama.