Theatre
TREE BOY by Michele Riml
At Tzeni Karezi Theatre, since 22 October!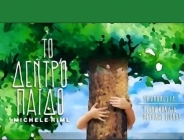 When 10-year-old Avery discovers that his father plans to cut down his favorite tree, he is determined to become Enviro-Man and save the tree, by protesting and living with his best friend on it!
"Tree Boy", by the critically acclaimed playwright Michele Riml, successfully premiered in 2007 at the Green Thumb Theatre, Vancouver. Since then the play enjoyed many productions across Canada and the United States, inspiring awareness about the world in which we live.
A modern, witty play not only for young audiences, about the protection of the environment and the eternal values of life. Because our planet is the backyard we all share!
Translation: M. Sionas
Direction: G. Kollia-M. Sionas
Production: PERFORMING ARTS & ENTERTAINMENT
THE ARTBASSADOR has licensed the Greek production, on behalf of the Agency MARQUIS ENTERTAINMENT, which represents Michele Riml's rights in this play.