Music
A CLOUD IN LOVE
08 January 2022- 16 January 2022
GREEK NATIONAL OPERA ALTERNATIVE STAGE, OPERA FOR CHILDREN & YOUNG AUDIENCES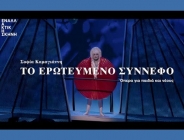 The GNO, Alternative Stage opens the 2022 season with the new, magical opera for children and young audiences "A Cloud in Love" by composer Sofia Kamayianni on a libretto by Eleni Zafiriou, based on Nâzım Hikmet's fairy tale of the same title. Α dreamy, lyrical performance, with the award-winning children and youth choir Rosarte in the central role of the narrator, which will lead audiences to an imaginary journey full of enrapturing melodies, and poetic atmosphere.
"A Cloud in Love" by celebrated Turkish poet Nâzım Hikmet, is a romantic allegorical tale, an anthem to universal values and deep love of life, which can overcome the violence, exploitation and greed. A work imbued with love, solidarity and generosity which inspires audiences with strength and faith in a better future. Because, as the narrators themselves mention 'the new that's coming, is born by the pains of the old'.
In GNO Alternative Stage's production, this great work is performed by the seven-member instrumental ensemble, under the music direction of Sofia Kamayianni and the stage direction is signed by the remarkable Eleni Efthymiou.
ΤΗΕ ARTBASSADOR has licensed the adaptation of Nazim Hikmet's work in an opera to be presented by GNO, on behalf of the HIKMET ESTATE, c/o Vicki Satlow Literary Agency.