Theatre
LA CAGE AUX FOLLES by Jean Poiret
At Broadway Theatre, since 25 December!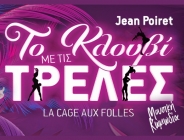 Nightclub owner Baldi and his dazzling drag artiste partner Albin create the most spectacular shows in St. Tropez. But when Baldi's son announces his engagement to the daughter of a notoriously conservative politician determined to bring the curtain down on the town's vibrant nightlife, the real performance begins…
Based on Jean Poiret's 1973 hit French farce, the legendary and multi-Tony award-winning "La Cage Aux Folles" is a spectacular and heartwarming musical. A timeless story of love, commitment, family bonds and acceptance, in a colourful, performance of high spirits!
Direction: V. Platakis
Production: Broadway Theatre
THE ARTBASSADOR has licensed the Greek production, on behalf of the French Collecting Society SACD, which represents Jean Poiret's right owners.