Theatre
LΕ MENSONGE by Florian Zeller
Αt Alexandreia Theatre, since 11 December!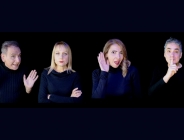 When Alicia spots her best friend's husband with another woman, she is confronted with a great dilemma: should she reveal everything to her friend? Her own husband vehemently insists she shouldn't. But why? Does he also have something to hide?
Four longtime friends, two couples among lies and truth…and the eternal dilemma. How much sincerity can a marriage stand? Hard to say…in affairs of the heart the line between truth and lie can be a dangerous one to cross....
A sophisticated, spicy comedy full of French spirit with sparkling, brilliant dialogues, by one of the most performed and popular contemporary French playwrights in the world, the multi awarded Florian Zeller, "l'enfant terrible du théâtre Français"!
Translation : Marialena Kotsaki
Direction : Kerasia Samara
Production : ALEXANDREIA
Starring : Vasilis Vlachos, Katia Sperelaki, Aliki Avdelopoulou, Kostas Tsachras
THE ARTBASSADOR has licensed the Greek production, on behalf of the French Agency ''AGENCE DRAMA Suzanne Sarquier'', which represents Florian Zeller's rights in this play.