Theatre
THREE TALL WOMEN by Edward Albee
At Piraeus Municipal Theatre, since 24 November!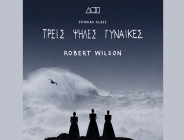 An outstanding exploration of three different stages in the life of a domineering and some times terrrifying, 90-year-old woman nearing death, through the haunting memories of her life's choices.
Inspired by his difficult relationship with his own adoptive mother, Edward Albee's autobiographical drama "Three Tall Women" premiered at Vienna's English Theatre in 1991, in critical acclaim and earned him the 1994 Pulitzer Prize for Drama, the third of his outstanding career.
An iconic work, in a notable performance directed by the renowned Robert Wilson, which provides a uniquely realistic insight into a woman's life, through the perspective of three different ages. Not to be missed!
Translation: E. Bellies
Direction: Robert Wilson
Production: T. SYNODINOS-E PROD
THE ARTBASSADOR has licensed the Greek production, on behalf of the Estate of Edward Albee, which represents E. Albee's rights in this play, c/o William Morris Endeavor Entertainment.