Theatre
LΕS PARENTS TERRIBLES by Jean Cocteau
Αt Radar Theatre since, 8 October. Second run!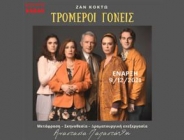 Love is a battlefield full of tender cruelty, in Cocteau's ''Les Parents terribles'', an astonishingly witty play, which scandalised 1938s Parisian audiences. An imaginative portray of familial bonds and the plethora of emotions, lurking within the dangerous game of human obsession. Read more...
Translation : Anastasia Papastathi
Direction : Anastasia Papastathi
Production : FUGA THATRE COMPANY
THE ARTBASSADOR has licensed the Greek production, on behalf of the French Collecting Society SACD, which represents Jean Cocteau's rights in this play.