Theatre
LΕS PARENTS TERRIBLES by Jean Cocteau THIRD RUN
At Radar Theatre, since 6 October!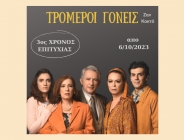 The astonishingly witty play ''Les Parents terribles'', by Jean Cocteau, one of the most multi-talented artists of the 20th century, was succesfully presented during the two previous theatrical seasons.
Now this notable production returns for a third run, at Radar Theatre since 6 October!
An extraodinary, ironic portray of familial bonds and the plethora of emotions, lurking within the dangerous game of love and manipulation! Read more...
Translation : Anastasia Papastathi
Direction : Anastasia Papastathi
Production : FUGA THATRE COMPANY
THE ARTBASSADOR has licensed the Greek production, on behalf of the French Collecting Society SACD, which represents Jean Cocteau's rights in this play.