Theatre
JORDAN by Anna Reynolds & Moira Buffini
At Alhambra Theatre, since 14 November!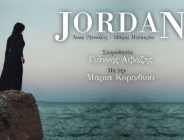 One woman. One unspeakable crime. It's 1987 and Shirley Jones is on trial for the murder of her child! The true story of a modern Medea, which shocked and divided public opinion in both English and global society.
Based on the testimony Shirley gave to Anna Reynolds while they were serving sentences in the same prison, this powerful and profoundly moving one- woman play is the harrowing story of a young abused woman marginalized by her family and social environment. It premiered in London, in 1992 , attracting a storm of publicity and was awarded the Writers' Guild Award for best play.
Translation : Marios Ploritis
Direction : Yiannis Aivazis
Production : AIKOR PRODUCTIONS
Starring : Maria Korinthiou
ΤΗΕ ARTBASSADOR has licensed the Greek production, on behalf of the Agency UNITED AGENTS LLP which represents the rights of Anna Reynolds & Moira Buffini in this play.