Theatre
UNFRIEND by Steven Moffat
At Neos Akadimos Theatre, since 11 October! Panhellenic Premiere!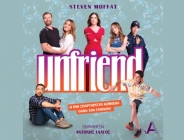 A random holiday acquaintance between a polite, middle-class British couple and an eccentric widow, leads to a murderously … comical cohabitation and a hilarious game of cat and mouse begins.
Steven Moffat's debut play "The Unfriend", was first performed at the Minerva Theatre, Chichester, in 2022, enjoying an incredible sold-out run, before transferring to the West End in 2023, where it will triumphantly return this winter for one more successful run!
An irresistible, sparkling comedy about good manners and the dangers of politeness, full of outrageous humor, in an absolute must see performance!
A killer comedy to die for!
Direction: Adonis Galeos
Translation: Adonis Galeos
Production: HAPPY PRODUCTIONS
THE ARTBASSADOR has licensed the Greek production, on behalf of the Agency BERLIN ASSOCIATES LTD, which represents Steven Moffat's rights in this play.