Theatre
WEST SIDE STORY
The performances continue at the Athens Concert Hall on 15, 16, 19, 20 and 21/10/2016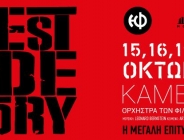 Inspired by the timeless story of Romeo and Juliet, West Side Story borrows the protagonists of the popular Shakespeare's story and places them in the most vibrant modern 'battlefield', the West Side of New York in the 1950s. In the midst of a deep – rooted rivalry between two gangs, Puerto Rican "Sharks" and the white "The Jets", Maria and Tony discover that outdated controversies of the past cannot be an obstacle to their true love. They must survive in a world of hatred, violence and prejudice.

With a strong social message, West Side Story remains one of the most revolutionary and beloved treasures not only of the American but also of the world musical theatre. From the first notes to the last breath, West Side Story continues to be one of the most influential love stories of all time. Arthur Laurents' book remains until today very lively and timely, while songs in music by Leonard Bernstein and lyrics by Stephen Sondheim are considered to be among the greatest contemporary masterpieces.

The greek production of the musical which charmed the Athenian audience for three performances on 16, 17 & 18/07/2016 at the Athens Concert Hall, comes back at the Athens Concert Hall for five additional performances, on 15, 16, 19, 20 & 21/10/2016.

The greek production of Kamerata / Armonia Atenea is directed by George Petrou -who has also translated the book- and John Todd, an acclaimed specialist of the genre, who is also the choreographer of the show.

THE ARTBASSADOR has licensed, with great delight, the greek production, on behalf of the US Agency MUSIC THEATRE INTERNATIONAL.