Theatre
ΜΥ FAIR LADY by Alan Jay Lerner & Frederick Loewe
21 November 2019- 31 December 2019
Life is a cabaret!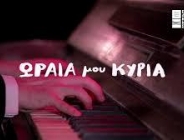 One of the most successful, and popular musicals in the history of Broadway, is presented for the first time in Greece in its full-length music version by the Greek National Opera's Alternative Stage at the Stavros Niarchos Foundation Cultural and will be brought to life through the seducing world of cabaret in a production of lofty aesthetic value.
Based on George Bernard Shaw's play Pygmalion, with prose, lyrics and music by the "amazing musical duo" Lerner and Loewe, the legendary musical goes up in the approved adaptation for two pianos, conducted by Stathis Soulis and directed by Ioannis Perlegkas, who also features in the leading role of Professor Higgins. Stathis Soulis and Victoria-Fjoralba Kiazimi perform on the piano.
Two pianos, voices, bodies and wild can-can dancing in a musical about the sex and class war, with wonderful songs such as I could have danced all night, which rightly remains to this day one of the most popular in the genre.
According to Lifo s article on 29 November 2019
"The scenographic idea (by Loukia Houliara) presents a "theater-in-the-theater": the audience faces an old-fashioned music-hall scene, with heavy curtains and many lights, where Eliza is called to give the interpretation of her life, an interpretation on which her future will depend. Life is a cabaret, as the famous song insists."
On top of that, the excellent work done in terms of the translation is worth noting, both on the prose and on the lyrics of the songs as well . Giannos Perlegas as Higgins proves again his unique talent and succeeded in seducing the viewer with the density and the core of his interpretation. Christina Asimakopoulou as Eliza is vocally seductive."

THE ARTBASSADOR has licensed the Greek production, on behalf of the UK Agent THE CONCORD THEATRICALS LTD (www.concordtheatricals.co.uk)