Theatre
MEDICINE by Enda Walsh
At Stathmos Theatre since 17 December!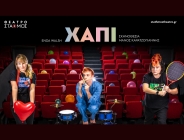 John, a long term patient in a mental hospital, attempts to tell his life story while undergoing a strange form of drama therapy by two visiting drama therapists and a live, loud drummer!
"Medicine", by Enda Walsh, received its world premiere at the prestigious Edinburgh International Festival in August 2021 to critical acclaim, prior to its opening at Galway International Arts Festival and two months later made its succesfull New York debut, at St. Ann's Warehouse.
Absurd and devastatingly funny, the play examines the heartless way we often treat those we called 'mentally ill'. "It's about the absence of love—and our longing and great need for love," E. Walsh
Translation: A. Galeos
Direction: M. Karatzogiannis
Production: STATHMOS THEATRE
THE ARTBASSADOR has licensed the Greek production, on behalf of 96 FOXES LTD, right owner of Enda Walsh's play, c/o CURTIS BROWN GROUP LTD.