BEETHOVEN 250 YEARS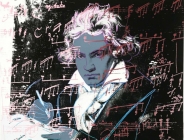 2020 marks the 250th anniversary of Ludwig van Beethoven's birth, therefor is dedicated to the legendary German composer. The celebrations began on December 16, 2019 from his birthplace Bonne and continued throughout the year in the entire world.
Widely recognized as the greatest composer who ever lived, Ludwig van Beethoven dominates a period of musical history as no one else before or since. His music left a deep impact, uniting the sentiment of nations across the globe through his timeless, universal, almost archetypal melodies. "Beethoven" Andy Warhol, 1987 He redefined musical forms with his innovative compositions, combined vocals and instruments, widening the scope of sonata, symphony, concerto and quartet, and became the predominant musical figure in the transitional period between the Classical and Romantic eras. As his personal affliction – deafness and the inability to enter into happy personal relationships – loomed larger, he began to compose in an increasingly individual musical style, creating some of music's greatests masterpieces while completely deaf!
His music enjoyed a great popularity among wider audiences and he remains one of the most admired composers in the history of Western music and universally respected classical musicians of all time. Beethoven's manuscripts from the 9th Symphony, held by the Staatsbibliothek zu Berlin, were added to the UNESCO Archive "UNESCO MEMORY OF THE WORLD REGISTER'' in 2001 and became the first musical composition to receive such an honor. The "Ode to Joy" is the anthem of the European Union and his music is billions of kilometers away from Earth, as part of the 5th Symphony travels with Voyager 2 from 1977!