SILENT NIGHT, HOLY NIGHT!
The Christmas Eve's Tradition throughout the world!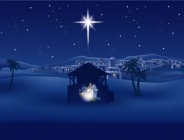 It was nearly 200 years ago, when "Silent Night" was first heard as Stille Nacht Heilige Nacht at St. Nicholas' Church in Oberndorf, near Salzburg. But wat is the story behind the world's most beloved Christmas song?
In 1816, a young Austrian priest, Joseph Mohr, created the poem "Stille Nacht". Two years later, Mohr asked his friend Franz Xaver Gruber, a local schoolteacher and organist, to compose a melody and guitar accompaniment to his poem, for the Christmas Eve's mass. That special night the two friends sang "Silent Night" together for the very first time in front of Mohr's congregation, and the world's most popular Christmas carol was born!
Within a few years, "Silent Night" became a cultural phenomenon throughout the world and the carol's mystique grew with its popularity. After the original manuscript was lost, for decades, some speculated that the song had been composed by Haydn, Mozart or Beethoven. In 1994, the original manuscript was found in Mohr's handwriting, with Gruber named as composer.
Since 2011, "Silent Night" is recognised by UNESCO as INTANGIBLE CULTURAL HERITAGE. Every year, the worldfamous Christmas carol , is sung passionately in over 300 languages and dialects and unites people across cultures and faiths with its everlasting, melodic message of peace.