Theatre
Bettencourt Boulevard ou Une Histoire de France
Τhe famed Bettencourt Affair by the French leading dramatist Michel Vinaver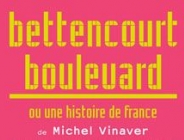 "Bettencourt Boulevard or A Story of France" (Bettencourt Boulevard ou une histoire de France) is the most recent play of the French leading dramatist Michel Vinaver, which revisits the famed Bettencourt Affair around the heiress to L'Oréal fortune, raising numerous questions on the troubled times of France's contemporary history.
Michel Vinaver relies on the searing information on Bettencourt's case and analyzes the intimate, political and economical aspects of it. He dares to speak one of the most concealed trends of our society: The formation and the rules of the narrow system, which is consisted of those who have plenty of money and those who want plenty of it, people with political power and those at the very honored professions such as medical, legal, police, plus all the "servants' of the previous ones.
In this tragic form of our society comedy is hidden as well. Vinaver sets men and women who were in the press headlines, on the radio or on the TV screen, on stage one after the other, as in the epoch of Shakespeare. Actually at the heart of Vinaver's play one finds truth in Shakespeare's declaration: all the world is a stage and all the men and women are merely actors and spectators.
Michel Vinaver was awarded the Grand Prix of Dramatic Literature 2015 on 9/12/2015 for his play "Bettencourt Boulevard or A Story of France".
THE ARTBASSADOR represents the play for a stage production in Greece and Cyprus, on behalf of the French Society SACD.