Theatre
CLUE: THE MUSICAL
Signing, laughing and playing a nice game!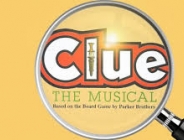 Signing, laughing and playing a nice game! What else would someone wish for a great evening? "Clue the musical" brings them all together.

Based on the popular game "Clue", Peter DePietro's scenario turned into a famous musical with the music of Galen Blum, Wayne Barker and Vinnie Martucci and Tom Chiodo's lyrics.

The audience is invited to help solve the mystery: "Who killed Mr. Boddy, in What room and With What weapon". Clues are given throughout the fun filled evening. Three audience members choose from a pile of cards representing the potential murderers, weapons and rooms - 216 possible solutions come up!

"Clue: The Musical" is far from a typical murder mystery. It is a compound performance of comic tricks accompanied by clever lyrics and fascinating music that enrich the investigation on the stage. Furthermore, even after the criminal's confession, a twist surprise delights the audience.

This "Classic Broadway" musical with moderate production prerequisites would be an excellent choice for Greek theater producers who are looking for a hit.

The Artbassador would happily license "Clue: The Musical" for a stage production in Greece and Cyprus, on behalf of the American Agency "SAMUEL FRENCH".