Music
Der Kaiser von Atlantis oder die Todverweigerung by Viktor Ullmann
A story of the abdication of death in the face of life's universal horrors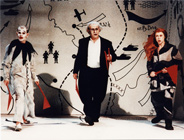 Der Kaiser von Atlantis oder Die Tod-Verweigerung is an one-act opera or legend in four scenes by Viktor Ullmann with a libretto by Peter Kien. They collaborated on the work while interned in the Nazi concentration camp of Theresienstadt (Terezín) around 1943 as a contribution to what the SS termed as "leisure activities". It was rehearsed by individuals who were aware of their potential eradication. After the dress rehearsal, the Nazi authorities interpreted the work's depiction of the character of the Kaiser as a satire on Hitler and banned every performance of it. Ullman was executed in Auschwitz in 1944.
The score draws on a variety of classical and popular styles, containing 20 brief sections and lasting about fifty minutes. Some parts of it are danced, while long sections are recited. The 1943 orchestration includes unusual instruments such as banjo and harmonium. Ullmann used the famous Lutheran chorale Ein feste Burg ist unser Gott as a melodic motif. The opera ends with the chorale "Come, Death, who art our worthy guest." Pierrot, the classic character from Commedia dell'arte, is a central figure in the play, albeit instead of being a moonstruck sleepwalker, he is depicted as an old man reciting poems to a cold and pityless moon.
The plot is no cut-and-dried allegory but an elusive death-welcoming parable about a mad, murderous ruler, redeemed in the end, who bids farewell to the world in a mock-Faustian vision of a natural paradise no longer spoiled by men; if his dream comes true all men would be dead. The Emperor of Atlantis, ruler over much of the world, proclaims universal war and declares that his old ally Death will lead the campaign. Death, offended by the Emperor's presumption, breaks his sabre; henceforth it will not be possible for any man to die. Confusion results: a Soldier and a Girl-Soldier from opposite sides sing a love duet instead of fighting; the sick and suffering find no release. Death offers to return to men on one condition–that the Emperor be the first to die. He sees the error in his ways, declares himself the first one to die and sings his farewell.
The opera had its world premiere at Saarbrucken on April 22nd 1992, directed by Anette Leistenschneider.
The music rights and the music material of the opera are available by THE ARTBASSADOR for Greece and Cyprus, on behalf of SCHOTT MUSIC.