Music
DIE HAMLETMASCHINE - OPERA
The opera of Wolfgang Rihm becomes a matter of great topicality!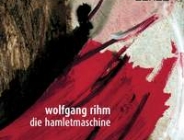 Die Hamletmaschine is an opera composed by Wolfgang Rihm to a German-language libretto based on Heiner Müller's 1977 play of the same name. It is a music drama in 5 parts, which was composed between 1983 and 1986. It was premiered on 30 March 1987 at the Nationaltheater Mannheim. However, parts of it were presented earlier in 1986 for the Rolf-Liebermann Prize of Hamburg, which finally won.

Die Hamletmaschine paraphrases Shakespeare's Hamlet. Heiner Müller based on it wrote his theatre text, which comprises a mere nine pages, yet is perceived as one of the most important written in the 20th century. Using Heiner Müller's text, Rihm has created a major work of musical theatre for singers and actors, choruses both live and recorded, a large orchestra, and percussionists positioned in the auditorium.

Rihm is a composer, professor of composition at the Music Academy of Karlsruhe, his native city, a remarkable writer on music with several books to his name. Rihm has written 'new music' as it is commonly called and some of his titles have become signposts in the history of post-war music.

In a time characterised by fundamentalist attacks, religious wars, humanitarian tragedy and political uncertainty, Die Hamletmaschine becomes a matter of great topicality.

Rights for the stage performances and music material of the above, as well as of all operas included in the UNIVERSAL EDITION catalog, are available by THE ARTBASSADOR for Greece and Cyprus.