Music
Six new operas by PEERMUSIC CLASSICAL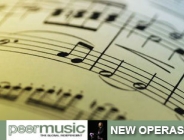 Mohammed Fairouz - Sumeida's Song
Sumeida's Song follows the return of Alwan from Cairo to his Upper Egyptian peasant village and his attempts to bring modernity to darkness in an effort to break a never-ending cycle of violence. The opera also contains a moral lesson for a troubled region, intermingling classical tragedy with the unharnessed energy of youthful hope and idealism.

Lou Harrison - Young Caesar
Originally conceived as a puppet opera, Young Caesar explores the early life of Julius Caesar and his historical meeting, and subsequent love affair, with King Nicomedes of Bithynia. East meets West in this unique project.

John Musto – Volpone
Musto's first opera, filled with an eclectic mix of jazz, Broadway, and bel canto singing. Of the premier, Washington Post critic Joseph McLellan said, "A masterpiece was born Wednesday night at the Barns of Wolf Trap."

Miguel del Aguila – Time and Again Barelas
"Time and Again Barelas" is a love story lasting over 500 years, set in the neighborhood of Barelas, New Mexico. Aguila's "Latin" sound sets the time and place for the drama to unfold.

Scott Wheeler – Democracy
"Democracy," a comedy of manners, is based on the novels Democracy and Esther by Henry Adams. The opera juxtaposes burgeoning love with political ambition.

Xavier Montsalvatge – El gato con botas
Montsalvatge's family opera based on the timeless European folk tale of "Puss-in-Boots" is now available in a chamber ensemble version for 12 instruments.

More information here

Rights for the stage performances and music material of the above, as well as of all operas included in the PEERMUSIC CLASSICAL catalog, are available by THE ARTBASSADOR for Greece and Cyprus.