ERIC-EMMANUEL SCHMITT JOINED DRAMA PARIS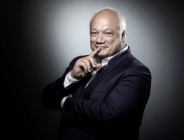 Eric-Emmanuel Schmitt is a talented writer and one of the most widely read and performed French-language authors in the world. Drama is thrilled to be resuming the international representation of all his plays, past and future!
Eric-Emmanuel Schmitt and Drama go back a long way starting with his very first play « La nuit de Valognes » in 1991. International success followed rapidly with Visiteur, Monsieur Ibrahim et les fleurs du Coran, Variations énigmatiques, Frederick et le boulevard du crime, Petits crimes conjugaux, Le Libertin, Hôtel des deux mondes, Le Journal d'Anne Frank.....
Eric-Emmanuel Schmitt, acclaimed by audiences and critics, has performed his own works in France, Switzerland, Belgium, Canada, Italy and is now acting in French-language performances in a number of European countries. His plays have won several Molière awards as well as the Grand prix du théâtre de l'Académie Française. His books have been translated into 48 languages and are frequently produced in over 50 countries.
"Philosophy claims to explain the world; theatre, to represent it. I combine the two as a way to try to reflect the human condition on stage, add my own ponderings and express my hopes and anxieties with the humour and lightness of touch appropriate to the paradoxes of our lives. Success makes one humble: what I thought was my private drama turned out to echo the questions of many of my contemporaries and their yearning to re-enchant life."
Eric-Emmanuel Schmit
The Artbassador is very happy to announce the representation of the playwright Eric-Emmanuel Schmitt for the territories of Greece and Cyprus, on behalf of the French Agency DRAMA SUZANNE SARQUIER.