THE OSCAR WINNER ''FLORIAN ZELLER"
The French writer is conquering global stage and screen!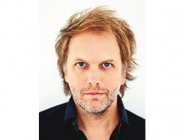 The French novelist and playwright Florian Zeller finds himself at the top of the list for the 2021 Oscars, together with Christopher Hampton. His first film "est un coup de maître"! Receiving six nominations at the 93rd Academy Awards, "The Father", adaptation of his acclaimed Molière awarded (2014) play "Le Père", joined the Academy Awards family, winning Best Adapted Screenplay and Best Actor for Sir Antony Hopkins at Sundays' 2021 Oscars!
Described as a "genius" (Le Figaro) and "the most exciting new theatre writer of our time" (The Guardian), Florian Zeller already claims a glittering career. His plays have been staged in more countries than any French writer of his generation, winning several awards worldwide. It was his passion for the theatre that inspired his greatest successes: "The Father" of course, but also "La Mère", "Le Fils", "Le Mensonge", "La Vérité", to name just a few, all interpreted by a multitude of very high-level actors. The light has come to rest on one of the most discreet, but above all the most talented, French authors who looks already set for an even greater, unrivalled international success.
"We started the evening with the Oscar for best screenplay and we end it
with the Oscar for best actor for Anthony Hopkins"
FLORIAN ZELLER
THE ARTBASSADOR is very proud to represent the plays of Florian Zeller, in Greece and Cyprus, via the collaboration with Agence Drama.