Music
The new opera Morgen und Abend of Georg Friedrich Haas
Α brilliant refraction of the mystical hereafter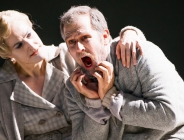 The opera of Georg Friedrich Haas Morgen und Abend is based on a novel of the Norwegian writer Jon Fosse, that mixes verbal motives found in Samuel Beckett's plays with the paradoxes of mysticism.
It's an essentially existential work that deals with birth and death as the only absolute certainties of the human condition. We watch the beginning and the end of a life, but not its greyscale course. The fisherman Olai (actor) waits for his son Johannes (baritone) to be born. Later, Johannes himself, also a fisherman, is conducted to the afterlife by those who preceded him - his wife Erna (alto) and his friend Peter (tenor) – leaving his daughter Signe (soprano) to grieve alone.
Haas's soundscapes are based on the perception of the sound refracted by the light, physical and metaphysical, which constitutes a substance quality of the work. The light of the morning, the blinding light when a baby is born versus the darkness of the evening, the darkness or the dawning light of the dying. Composer's obsession with light derives from a personal experience of growing up in an Austrian's mountainous region near the border with Switzerland. "The sun never penetrated the narrow valley and nature was a dark force".
Moreover, like many of his compatriots, Haas has been shocked by the rise of the far-right Austrian Freedom Party, in his native country. Some of his works were a critical response to this political situation, such as in vain, playing out in a mixture of glaring light and blackness and Third String Quartet, performed in complete darkness. Darkness prevailed throughout of some of his earlier works, but increasingly light has become an existential reason to live, as the following titles reveal: Hyperion, a Concerto for Light and Orchestra (2006), ins Licht (2007) and Morgen und Abend, were Haas uses a large opera full of spangly percussion - glockenspiel, crotales, vibraphone – as well as an accordion and plenty of woodwind and brass. That creates a brilliant and distant at the same time acoustic narration of microtones.
The opera had its world premiere at London's Royal Opera House on November 13th 2015, as a co-production with Deutsche Oper Berlin.
The Artbassador represents the opera for a stage production in Greece and Cyprus, on behalf of the publisher Universal Edition AG.