JON FOSSE 2023 NOBEL PRIZE IN LITERATURE
"I feel I enter another universe when I'm writing." - J. FOSSE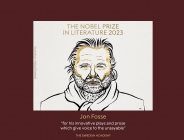 The Scandinavian 2023 Nobel Prize winner, Jon Olav Fosse is undeniably one of the most renowned contemporary authors and playwrights worldwide. His work spans over seventy novels, poems, children's books, essays, and theatre plays, which have been translated into over fifty languages.
He made his debut as an author in 1983 with the novel Raudt svart, while his first play Og aldri skal vi skiljast, was published and performed at the Bergen National Theater in 1994. One of the most performed Norwegian playwrights, Fosse is currently- with productions presented on over a thousand stages worldwide- one of the most performed contemporary playwrights globally. His minimalist and deeply introspective style, with language often bordering on lyrical prose and poetry, was a milestone in the renewal and modern continuation of the Norwegian dramatic tradition.
Ιn 2023, he was awarded the Nobel Prize in Literature
"for his innovative plays and prose which give voice to the unsayable."
ΤHE ARTBASSADOR is really honoured to represent the stage rights on Jon Fosse's works in Greece and Cyprus, on behalf of the Swedish Agency, Colombine Teaterförlag. which represents Jon Fosse.