NEW REPRESENTATION CHRISTOS ANTHIS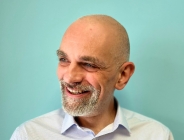 Christos was born in Athens in 1972. He's lived his whole life in his beloved hometown, except for four extremely formative years in Stirling, Scotland, where he studied English Literature. He worked as a teacher for some years, before moving onto instructional design and eLearning.
His nights always belonged to the theatre, however - reading and watching plays in Athens and London, as well as acting. He has portrayed such characters as Gayev (Chekhov's The Cherry Orchard), Beverly (August by Tracy Letts) and Ratchet (Christie's Murder on the Orient Express).
Christos won the Greek State Award for New Playwrights in 2020 for his play Four Women Depart. In 2021, one of his plays (Little Lives) found its way to a professional stage for the first time, receiving a very warm critical reception and exceeding commercial expectations.
A fan of Simon & Garfunkel and Miles Davis, Christos immensely appreciates works by Brecht, Ibsen and Miller, but views Sophocles, Shakespeare and Chekhov as the greatest playwrights of all time.
THE ARTBASSADOR is verry happy to announce the exclusive representation of Christos Anthis, aiming at the promotion, negotiation and licensing of his palys, both in Greece and abroad.