NEW REPRESENTATION DOMINIQUE CHRISTOPHE L'AGENCE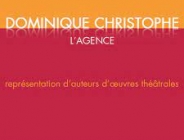 Founded by Dominique Christophe, the French Agency "Dominique Christophe L'Agence", has been representing creators and works from all over the world, since 2009. Maintaining an extensive experience in the performing arts sector, the company offers its members a high level, personalized, and efficient service.
The Company's large catalogue includes works by established contemporary French-speaking creators, as well as established foreign- language creators from all over the world. Read more....