NEW REPRESENTATION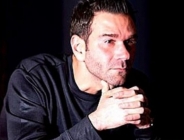 Tasos Iordanidis is a Greek actor, script writer and director. He holds Undergraduate Degrees in French Language and Literature by the National and Kapodistrian University of Athens and in Theatre Studies by the National Theatre of Greece Drama School (2005).
Αs an actor, he already has a brilliant career in Greek television, having participated in several successful TV series. At the same time, he boasts an impressive theatrical career. He starred in classic theatrical masterpieces, including "Hamlet" and "The Taming of the Shrew" by William Shakespeare , "Crime and Punishment" (Raskolnikov) by Dostoevsky, "Father", by Strindberg, "Johnny Got His Gun" (Johnny) by Dalton Trumpo, "A streetcar named Desire" (Kowalski) by Tennessee Williams and he was 4 times awarded the Theatrical Audiences Award for Best Actor.
In 2021, the multi-talended creator makes his theatrical debut as a playwright with the play "I want to hold your hand", a heartwarming, smart work dedicated to human relations, in which he co-stars with his wife, actress Thalia Matika. The play was an instant smash hit! It was presented during the 2021-2022 season and ran for 150 sold out performances, thrilling audiences and critics. Following its absolute triumph, the play will continue for a second run during the next theatrical season!
THE ARTBASSADOR is verry happy to announce the representation of Tasos Iordanidis, aiming at the promotion, negotiation and licensing of his palys abroad.