NEW REPRESENTATION THOMAS SESSLER VERLAG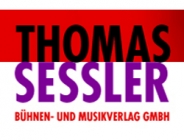 The Austrian Agency Thomas Sessler Verlag, was founded in 1952, by the German-Austrian publisher and writer Thomas Sessler Verlag. Today the company is Austria's leading drama Agency, maintaining a large and comprehensive repertoire of theatre works.
Having its roots in the milestones of Austrian theatre history the company represents and promotes a wide range of classics, as well as contemporary drama works. Read more...