Music
Children's operas by UNIVERSAL EDITION
New catalogue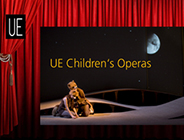 The music publisher UNIVERSAL EDITION introduces a new catalogue including eight operas for children, each lasting around 60 minutes, ideal for children aged four and older.
Each of the operas is an adventurous journey where children will discover love and interest for the exciting world of opera.
The catalogue includes the operas:
La Cenerentola by Rossini
The sacred duck by Hans Gal
All the King's men by Sir Richard Rodney Bennett
The abduction from the seraglio by Mozart
The magic flute by Mozart
The secret kingdom by Ernst Krenek
Dulcinea by Mauricio Sotelo
The cunning little vixen by Leos Janacek
More information on the children's operas here
The music material of all the works of composers belonging to UNIVERSAL EDITION AG / Austria is available for Greece and Cyprus, through The Artbassador.