PETER QUILTER JOINING THE ARTBASSADOR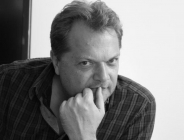 Peter Quilter, is one of the most talented contemporary creators of the UK stage scene. His inspired works have been produced in over 40 countries around the world and translated into 30 languages. He has had three successful shows in London's West End, a hit run on Broadway, and has twice been nominated for the Olivier Award - for Best New Play and Best New Comedy.
His popular two-actor comedy "Duets" (face to Face) is now playing in 24 countries and his hugely successful Judy Garland musical-drama "End of the Rainbow" became the Oscar-winning film "Judy" (2019).
We are looking forward to enjoy the forthcoming productions of Quilter's worldwide hit comedy "Glorious'' - the true story of Florence Foster Jenkins the worst singer in the world- as well as his brand new comedy "Snowbound", a funny story about two totally different people trying not to drive each other crazy while being stuck together during a snowstorm.
The Artbassador is very happy to announce the exclusive stage representation of the playwright Peter Quilter, for the territories of Greece and Cyprus, effective from February 2021, aiming at the promotion, negotiation and licensing of Peter Quilter's plays.