Music
PETER PAN a new opera by Richard Ayres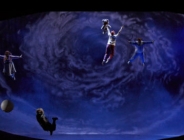 PETER PAN is a new opera by Richard Ayres with libretto by British writer LaviniaGreenlaw. It has opened on 19 December 2013 in a production by Oper Stuttgart directed by Frank Hilbrich and conducted by Roland Kluttig.

When Ayres and Greenlaw first met to discuss the opera, they shared many memories of their childhoods; this was the starting point for their Peter Pan.

Ayres said about the opera PETER PAN:
"I faced several challenges as a composer,the biggest was perhaps to find a musical language that not only suits a world full of children, but also one that describes a bizarre, slightly disturbing and dreamlike world."

Performances in Stuttgart will last until April 2014.Further performances of PETER PAN will take place in Berlin in Autumn 2014 by the KomischeOper Berlin and in the UK in 2015 by the Welsh National Opera.

More information here

Performing rightsand music material of the above, as well as of all operas included in the SCHOTT MUSIC catalog, are available by THE ARTBASSADOR for Greece and Cyprus.